Winter Fashion Necessities
Posted by Prudy on 22 February 2016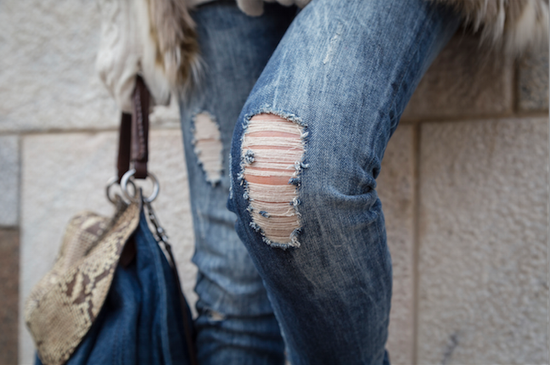 Since Jack Frost hit us a little late this year, we feel it is completely appropriate to talk about winter fashion. We aren't quite ready for crop jeans, and tanks.
Winter fashion is all about being cute and cozy, and wearing the right colours. This winter's hottest colours include radiant orchid, sangria (a bright berry), aurora red, bright cobalt, royal blue, white and black. Of course, you are more than welcome to wear other colours as well, but these are the most popular colours for winter fashion.
We've put together a short list of winter clothes for women so you know which pieces are vital for you to look your best (and warmest).
1. Women's Winter Fashion Tip: Wear Dresses
Yes, winter means harsh wind and lots of snow, but that doesn't mean us ladies can't still wear elegant dresses. Dresses are a winter fashion must-have. You might be getting chills thinking about wearing a dress in the cold, but remember when choosing winter clothes, pick out materials that are durable in the cold. Try dresses that are made out of fabrics like leather, velvet, corduroy, and cotton. If it happens to be a colder than usual day, add a pair of tights or stockings underneath your dress.
2. Women's Winter Fashion Tip: Show Your Figure
Winter doesn't mean you hide your shape under frumpy sweaters. Pencil skirts show off a women's figure in the best way possible. Pencil skirts can be worn in a professional environment but still have the right touch of sexy, so you get best of both worlds. Pencil skirts come in different colours, styles, and materials. Try looking for pencil skirts that have a bit of lace on them, as lace gives off a classic look. Pair them with a peplum top, a collared shirt or a cardigan. If you're wearing a colourful pencil skirt, match it with a neutral top, and vice-versa.
3. Women's Winter Fashion Tip: Slim Leg Pants
Slim leg pants are comfortable to wear and so easy to style. Grab slim leg pants in dark colours to add a sliming look to your legs. Pair them with a collared shirt and a sweater, a patterned blazer, or even a simple dress shirt. Slim leg pants can be dressed up or down - it all depends on how you want to style it that day.
4. Women's Winter Fashion Tip: Add Accessories
Whatever winter clothes you decide to wear, accessorize them with glittery earrings, thick wool scarves, over-sized necklaces, high knee boots, and winter hats. You can wear high knee boots with a dress, leather tights, and even miniskirts. Necklaces and earrings can be worn with any outfit, so if you find yourself wearing a colourful outfit, play it off with pearl earrings and a simple pearl necklace. Scarves are a must to any winter wardrobe, and we know a bunch of ways to style your scarf, so grab yourself a thick scarf for a warm and casual look.
5. Women's Winter Fashion Tip: Winter Coats
As always, we saved our favourite winter fashion tip for last. What's winter fashion without a stylish winter coat, especially if you're bearing the harsh Canadian winters. Winter coats don't have to make you feel stuffed like a turkey. Winter coats can be both fashionable and warm, so go ahead, and rock a parka coat, a pea coat, a wrap coat, a cocoon coat, or a toggle coat this year.
Winter clothes don't only have to consist of sweaters and sweatpants. Explore different winter outfit ideas, and play with different winter fashion pieces for a new (and warm) look. Come into one of the Pippa and Prue locations to find a stylish and warm winter clothes and inspiration for winter outfit ideas.
Author:Prudy
Post comment