Toasted Coconut Cruch
Posted by Prudy on 4 June 2014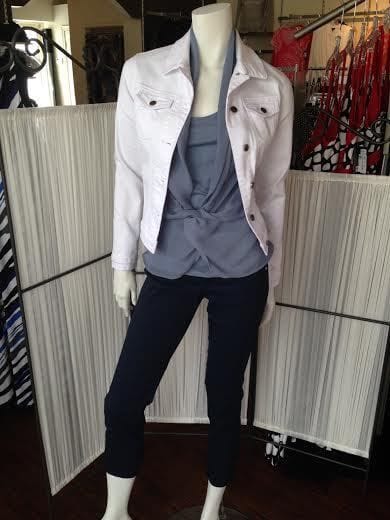 Everything you could ever want in an outfit!
These three pieces are everything you could ever want in an outfit. Let's start with the pants.
These navy Brenda Beddome cropped pants are a must have for your summer wardrobe. They are light, flexible and can easily be paired with any top.
When paired with the Brenda Beddome wrap, blue blouse you can wear this outfit to the office. A closed toe pump or a dressy sandal will complete the look. Take the look from office to dinner by adding SNO of Sweden jewelry for a little extra crunch! If you need a sweater, a long, grey or white cardigan would pair nicely with these neutral blues. You want to keep with the cool colours that are already included in this outfit.
We've paired this outfit with the new White Yoga Jean jacket. Made from the same stretchy material we love so much, this jean jacket is a fresh take on the classic blue denim jacket. Throw the Yoga Jean jacket on with this outfit and a pair of white flats for a fun and flirty lunch ensemble.
Author:Prudy
Post comment