Strawberry Shortcake
Posted by Prudy on 4 August 2014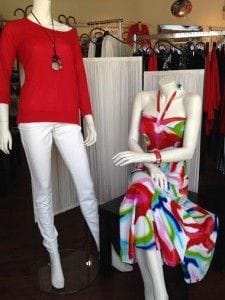 Brighten up your wardrobe!
Rock'n'Karma has done it again with this creatively coloured, white maxi dress. We are so used to seeing the typical black with a splash of colour from this designer but this fresh spin, on the traditional maxi, is just what you need to elevate your summer wardrobe. Like the other Rock'n'Karma dresses we sell, this little number is the jaw dropping dress you need for any formal occasion. We've paired it with a SNO of Sweeden red bracelet. Add the matching SNO of Sweden red earrings to complete the look. No necklace is needed with this halter neck dress. The vast array of colours in the dress make picking out shoes easy! You can pick one of the many colours in the dress, including white or a nude. We suggest not pairing the dress with a black shoe. The dress is summery and a dark shoe like black could clash with the bright and fresh feel of the dress.
Our second number is a casual look that we have put together. This outfit is great for the office, dinner or a barbecue. We started with the white, cropped Not Your Daughter's Jeans. We LOVE white jeans for summer especially an ankle cropped jean. It's fun, flirty and looks great with any type of shoe. White jeans are in season for summer. It's important to have jeans that are in season. Wearing your high-wasted, dark blue jeans in summer won't cut it! Treat yourself to a pair of jeans that won't go out of style. The red Jackpot pull over is the light sweater that can be worn for all occasions this summer. It's perfect for a family barbecue, especially when it gets a little cooler at night. You can pair it with cropped jeans, shorts or an A-line skirt. Add a bohemian necklace, like the one we featured from Sandwich. The pullover is simple and needs something extra to elevate the look.
Author:Prudy
Post comment