Mint Chocolate Chip
Posted by Prudy on 20 June 2014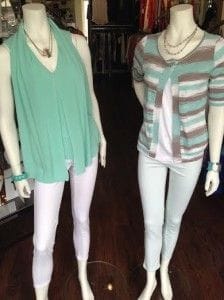 We love our Yoga Jeans!
The ankle cropped Mermaid and White Yoga Jeans are just what you need to dive into summer!
These stretchy and slim fitting jeans are essential pieces in your wardrobe. We've paired the white Yoga Jean with the sandwich double layer tank in mint green. Finish off the look with the SNO of Sweden silver and mint teal bracelet, and the Anne Marie Chagnon multi-coloured statement necklace. Pair with a silver gladiator sandal or a white wedge sandal for a fresh take on a classic flavour! For those summer nights that are a little colder, add the white Yoga Jean Jacket for a trendy and cozy look.
Make a splash in the Mermaid Yoga Jean! We've paired it with the Sandwich half sleeve, striped cardigan, in mint and milk chocolate. A simple white tank top, underneath the cardigan, allows for a buttoned up or relaxed style from the cardigan. To complete the look, we've added the Anne Marie Chagnon mint and teal bracelet, as well as the SNO of Sweden silver and crystal ball necklace. White or brown flats, or a wedge sandal will finish this flirty look off.
Author:Prudy
Post comment