Five Looks. One Dress - Styling Your Little Black Dress
Posted by Prudy on 20 July 2016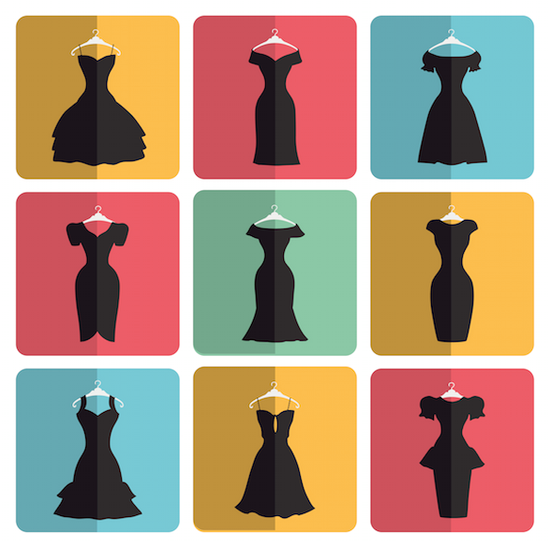 They say that an essential piece in every woman's closet is a little black dress, and for good reason. It's a goof-proof item of clothing that you can always rely on when you've got nothing else to wear. It's effortless, flattering, and turns heads wherever you go.
While it's a notable and classic style that is praised for its simplicity, it can be accessorized in a number of ways to create distinctive looks. Follow or guide on how to style a black dress for each day of your typical work week!
1. Add a Pop of Color
If your LBD is a little plain and less than impressive, experiment by pairing it up with something bright. Whether it's a green coat or a red handbag, not only will it add life to your look, but it can up the ante on your outfit game without much effort required.
2. Bling It Up
With the help of a bold belt or a noticeable necklace, take your LBD one step further with a little something extra. Accessorizing your outfit in such a subtle way can lead to significant results, with your accessories taking center stage. With very little focus placed on your dress, it gives you the chance to wear it again, so it's a win-win situation.
3. Be Casual
Who says you can't be comfortable in a LBD? Give it a casual spin by matching it with a pair of white Converse and a black leather or denim jacket. Even though it's a more laid back look, you'll still be put together. While it's a fun way to wear your LBD, it's still sophisticated enough for work (depending on the industry you're in).
4. Wear It Front and Back
If you're on the hunt for a new LBD, a good tip is to try it on backwards as well to see if it fits right. That way you will have the option of two necklines in one dress. If you're satisfied with the way it looks, follow up with the appropriate accessories to complete your look for the day.
5. Layer, layer, layer!
Let's face it, thougha LBD is a classic style that you can never go wrong with, it wouldn't hurt to add some layer and texture to its monochromatic appearance. Layer up your dress with jackets, vests, cardigans, scarves or whatever else you see fit to add some depth and keep things interesting!
Now that you know the different ways you can style your little black dress, and have a few ideas on what to wear to work, stop by Pippa &Prue today to pick up the missing pieces to complete your knockout outfit! Check out our locations to find one near you.
Author:Prudy
Post comment