Cotton Candy Swirl
Posted by Prudy on 27 May 2014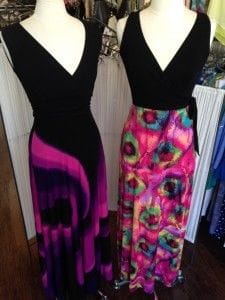 Maximum Colour Maxi Dresses
Maxi dresses are an essential piece in any woman's summer wardrobe because of their versatility. A maxi dress can be worn to the beach, a dinner, a barbecue and even a wedding. With a change in your accessories and shoes, you can take these dresses from family barbecue to wedding attire.
The black, purple and cotton candy pink, Rock'n Karma dress was designed for comfort and elegance. Designed in Toronto and hand painted in Bali these dresses are the perfect blend of Toronto chic and Bali unique. The beautiful, striking colours and patterns are perfect for vacation wear and the two-way stretch material makes for easy travel and wash.
The multi coloured, Hail3y:23 max- dress is made of a light fabric perfect for those long summer days. This dress is a staple piece for any vacation or summer wardrobe. It travels well, making it an easy choice to pack. The exotic colours complement virtually every skin tone. The black bust balances the bright hues, adding simplicity to the dress. The v-neck adds sophistication and a feminine touch to the look.
Make your maxi dress casual with a pair of flat sandals. For accessories, think bohemian chic. Try bold bracelets, like Twoa or Anne Marie Chagnon, to finish off this casual, chic look. For a more formal look, couple the maxi with wedge sandals or a black heel. Add a Rock'n Karma shrug to complete the look for formal events or cold summer nights.
Author:Prudy
Post comment