Chocolate, Vanilla Swirl!
Posted by Prudy on 22 August 2014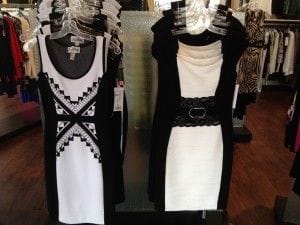 Summer Dresses from Joseph Ribkoff
In the summer, women tend to avoid wearing black. We hear it all the time in our clothing stores: "anything but black." For some reason, women have been brainwashed into thinking that wearing black in the summer is not acceptable. Just because a dress has a lot of black in it, doesn't mean you can't rock it in the summer!
We're here to bust this old wives tale with some fabulous new black and white dresses perfect for a summer night out!
Joseph Ribkoff has come out with a line of dresses, fit for a night out this summer. These dresses are a great example of applying black to your summer wardrobe. These elegant dresses are perfect for work, dinner, and, depending on the bride, a wedding. Each design has a flattering waste line. All the dresses are cut to really show off the natural curves of your body. The skirts are long enough for any occasion, so whether you're sitting at your desk or dancing up a storm, you won't have to worry about showing off too much leg. The fabrics are flattering and have a lot of give so you can be comfortable geting around all day, and sneak a few donuts (your secret is safe with us).
The Ribkoff dresses are extremely versatile. You can wear them in the summer with a white stiletto or wedge sandal. Wear them in the winter or fall with a black ankle boot, knee high boot or a stiletto. You can pair them with stockings or pantyhose to keep your leg warm.
Author:Prudy
Post comment