6 Style Tips For Plaid Shirts
Posted by Prudy on 21 January 2016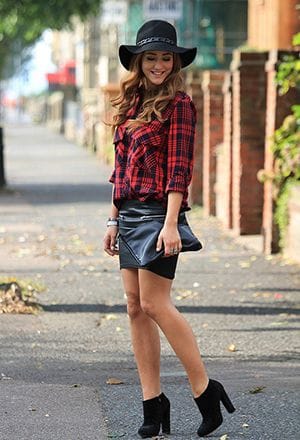 Women's fashion is all about being brave, bold, exotic and different. Fall and winter fashion consists of boots, leather jackets, fur, wool scarves and PLAID. You may think plaid shirts for women are hard to pull off and a bit too "masculine." Plaid shirts are fun to dress up and can make an outfit absolutely charming!
Pippa & Prue has come up with 10 style tips on how to wear a plaid shirt.
1. Start Simple!
The cool thing about fall/winter fashion is that you can be casual and still look cute. Wear your plaid shirt under a warm cardigan; this will keep you nice and cozy.
2. Style Tips for Over-Sized Plaid Shirts
Sometimes we all go through a phase where we just want to wear an over-sized shirt and not give a damn. Women's fashion is not all about wearing tight knit clothing. Wearing an open over-sized plaid shirt as a cardigan looks like a cute layer with jeans and riding boots.
3. Accessorizing with Plaid Shirts
You can add an infinity scarf and a floppy hat, and pair your plaid shirt with washed out jeans for more of a lazy weekend look.
4. Style Tips for Mixing Patterns
You are well aware that your plaid shirt is patterned; however, that should not stop you from mixing it with another pattern. Try wearing a plaid shirt with leopard pumps. There is nothing wrong with mixing patterns as long as your have a solid, like leather leggings or jeans, to break up the patterns.
5. How to Wear a Plaid Shirt with a Skirt
Show off your shape by wearing high waisted skirts. You can tuck your plaid shirts into your skirts for a casual and chic look.
6 Layer Your Plaid Shirt
Throw on a fitted sweater on top of your plaid shirt, but allow the collar and the sleeves to pop out. This is a great preppy look.

Follow these 6 style tips on how to wear a plaid shirt and you will be rocking fall/winter fashion like a fashionista. Women's fashion is creative and you can get more ideas here at Pippa & Prue. Visit one of Pippa & Prue's locations for fall fashion wardrobes or check out our blog.
Author:Prudy
Post comment